Hammock Coast Birding Festival makes a successful first flight
Bird enthusiasts flocked to South Carolina recently to take part in an inaugural event — the Hammock Coast Birding Festival.
For three days, ornithophiles — or, more simply, "birders" — took part in various tours, attended lectures and even a film. And, of course, they focused their binoculars and scopes on many, many birds.
Attendees came from Canada and 19 states – as far away as California, Oregon and Maine.
"I'd give this festival an A+," an enthusiastic Michael Joiner of Appling, Georgia, said. Michael had just wrapped up a tour at Brookgreen Gardens with his wife, Elizabeth, on the final leg of the three-day festival.
The festival highlighted why the Hammock Coast is known as one of the best birding sites on the East Coast. The Hammock Coast is the tourism moniker for Georgetown County, South Carolina, a nature-centric coastal region between Myrtle Beach to the north and Charleston to the south. The festival was held in February to highlight winter migrating birds that stop over along the coast and wetlands that have long defined the area.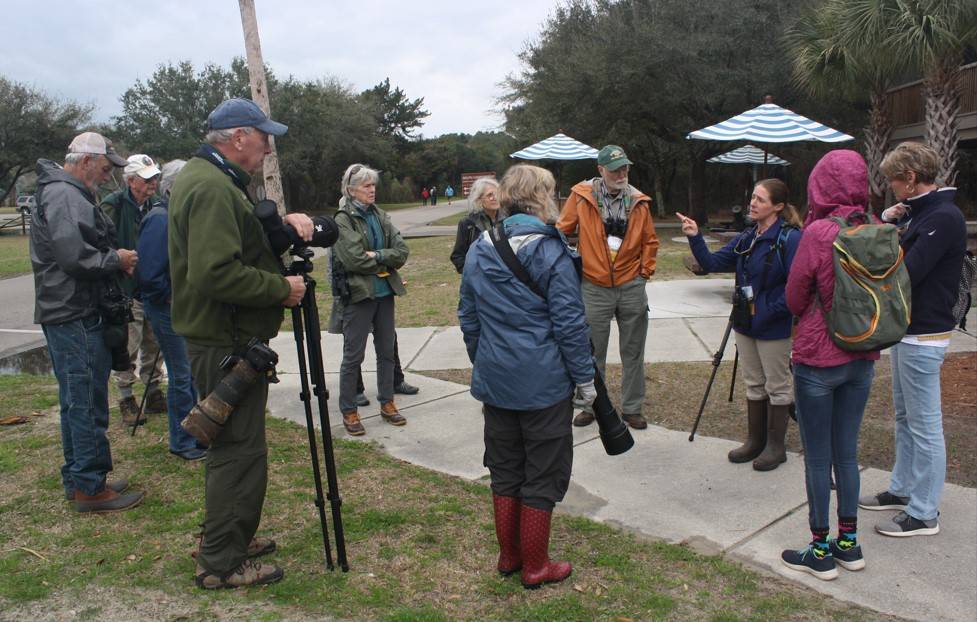 "For the first time ever, four distinct areas of the Hammock Coast came together to provide birding-focused tours in a tight timeframe to highlight our reputation as one of the best places to see birds, certainly in South Carolina and even the entire East Coast," said Mark A. Stevens, director of tourism development for the Georgetown County Chamber of Commerce. "The registration list was purposely kept small to give those attending a special, almost exclusive, event."
In fact, Stevens said, there was a very long wait list of birders hoping to attend the festival. In the end, only two were able to be added from that wait list.
Attendees began arriving Feb. 9 for the festival that featured guided tours at world-famous Brookgreen Gardens, Hobcaw Barony, Huntington Beach State Park, and the Tom Yawkey Wildlife Center. All in all, the tour locations, located in Murrells Inlet and in Georgetown, total nearly 50,000 acres of preserved and protected land, making them some of the most pristine areas on the South Carolina coast.
Guest speakers were Peter Alden, a world-renowned naturalist, lecturer, ecotourism guide and author of 15 books on North American and African wildlife, including the National Audubon Society's Regional Field Guide Series; and Al Hinde, a raptor expert and the principal investigator for the Wintering Raptors of the Great Basin Census and Banding Study from 1985-2015.
There was also a showing of "Purple Haze: A Conservation Film," at the Waccamaw Neck Branch Library. The film, created by South Carolina native Zach Steinauser, is about the Purple Martins, North America's largest swallow species, and how it has become almost completely dependent on man-made nesting structures.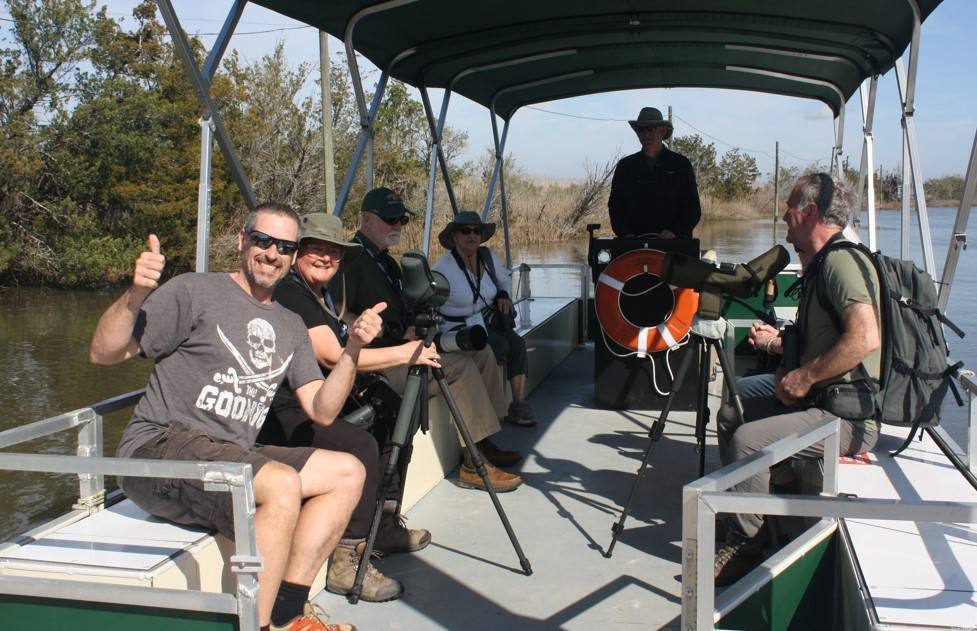 Festival attendees, who ranged from novice to experienced birders, excitedly added birds to their "life lists" of species. On just one excursion at the Tom Yawkey Wildlife Center, one birder saw 50 different bird species, everything from Blue-winged Teal and Hooded Merganser to a Wilson's Snipe and Black-bellied Plover, in addition to the many herons, egrets, ibis and other wading birds commonly seen in the coastal region.
At Huntington Beach State Park, more than 330 species of birds are logged annually.
Karl Ekstrom from Knoxville, Tennessee, who has been traveling extensively since 2015 to see as many different birds as he can, was excited to visit the Hammock Coast.
"I have been to 20 different countries, including Ecuador and Colombia, and have seen around 2,000 birds as of now," Ekstrom said. "In the U.S., I've done birding in southern Alabama, southern Texas, and, of course, Tennessee, where I usually get 50-60 birds just around my property each year."
Now, he's added the Hammock Coast to his list of birding locations and has already said he'd love to come back in 2024.
Sally Lippman of Missouri, who has a second home in Hilton Head, South Carolina, said the birding festival was well-organized and enjoyable.
"It has met my expectations and far exceeded them," she said. "It is like a community of birders and you can go up and talk to anyone. Everyone is really friendly, and I feel like it is a great comradery between people who share the same interests."
Ron Hall from Atlanta, Georgia, said he, too, had a good experience.
"I've been here about a half-dozen times over the years, so I am familiar with the Hammock Coast area," Hall said. "Of course, with the tour guides, I have learned a lot more."
He said his favorite tour was at the Tom Yawkey Wildlife Center, where he learned about the history of the Yawkey area and how it relates to the rest of Georgetown County and South Carolina.
"I did not realize that rice was such a big part of South Carolina history," Hall said.
Amanda Milano and her daughter, Mollie, from Lexington, South Carolina, came to the festival to enjoy nature and for Mollie to photograph the birds they saw in this area.
"Wildlife photography is Mollie's thing," her mother said. "We had a chance to see a lot of birds that we don't normally get to see where we live."
Mollie, who, at 24 years old, was the youngest attendee at the festival, said she got down on the ground at eye level to get a good shot of a sanderling at Huntington Beach State Park.
Mike Oliver from Clarkson, Michigan, said he has always had bird feeders in his yard and noticed birds on hiking trips, but he didn't realize that a lot of other people are interested in birding until about five years ago when he became serious about the hobby.
"Now I bird everywhere," Oliver said. "It's an obsession. I just came down here to have fun."
He said he doesn't take photos or keep a list, but he has a good memory.
"I can tell you where I saw every bird for the first time, I'll guarantee you that," Oliver said. "A lot of people ask me why I don't take pictures. It is just not my thing."
Jan Johansen, an artist from Bluffton, South Carolina, said she is a novice birder obsessed with ibises and Wood Storks. She saw both during her time at the birding festival.
"I do a lot of bird art, like watercolor painting, drawings, and linoleum block cut," Johansen said. "I want to learn about everything new. It is kind of an adventure."
Attending the Hammock Coast Birding Festival happened by chance, she said, noting that she had planned to go to the San Diego (California) Birding Festival this February but saw the Hammock Coast event and decided to visit somewhere closer to home.
"I was really excited," Johansen said. "I've only been in this part of the state once, about 20 years ago, so it's fun to come back and explore."
Lenny Mull and Janene White from Rock Hill, South Carolina, said they were most excited to see the endangered Red-Cockaded Woodpecker during a tour of longleaf pines at Brookgreen Gardens. The woodpecker could be found at Brookgreen, as well as two of the other four festival tour locations: Hobcaw Barony and the Tom Yawkey Wildlife Center, providing attendees a good chance to glimpse the rare bird.
"He stayed in the trees above us for about 10 minutes, moving around from tree to tree, right there," Mull said. "That was the main bird I came down here to see. I never saw one before."
Birders Sylvie Martel and her husband Gaetan Giroux drove their RV from their Canadian home in Saint-Bruno-de-Montarville, near Montreal, for the event. Martel told The Georgetown Times that it was her first time in the Palmetto State in half a century.
"We don't have many birds this time of year (in Quebec), they're all down south," Martel told the newspaper. Giroux noted that he and Martel spotted four birds they had never seen before just on the first day of tours on the Hammock Coast.
Festival attendees were also eligible for several local prizes, including gifts from the Brookgreen Gardens and Huntington Beach State Park gift shops; signed copies of Murrells Inlet photographer Steve Ellwood's book "In the Moment," which showcases his bird photos from the Hammock Coast; and a rope hammock from The Original Hammock Shop in Pawleys Island.
Stevens, the director of tourism development who worked on the festival for the past year, said he couldn't be more pleased, both with the festival and the attendees.
"We had all sorts of weather — from a a 75-degree day with blue skies to some rain and little bit of a chill, too," Stevens said, "but, overall, the festival was a huge success. The good thing is the birds come out in almost any weather, and I have to say the people who attended our first Hammock Coast Birding Festival were some of the nicest people I've ever met. And, you know, they're very mindful of the environment, so they are great visitors to our area.
"They respect our area and the importance of keeping it pristine and beautiful, not just for the tourists and residents, but for the wildlife and the birds, too."
Stevens said the Chamber is already planning for a follow-up festival in 2024.
About the Hammock Coast®
Georgetown County's casual charm and Southern hospitality earned it the nickname Hammock Coast. Adventure and relaxation blend together in perfect harmony, like the flowing and ebbing of waves on the county's famed beaches. With six communities – southern Garden City, Murrells Inlet, Litchfield Beach, Pawleys Island, Georgetown and Andrews – comprising the pristine coastal area between Myrtle Beach and Charleston, visitors can experience South Carolina's Hammock Coast like never before.
When it comes to an overall birding experience, there's nothing quite like the Hammock Coast with its miles of pristine beaches, marshes and rivers teeming with birds and waterfowl, as well as tens of thousands of acres of protected forests.
By Clayton Stairs / tourism manager for the Georgetown County Chamber of Commerce and South Carolina's Hammock Coast®