Fall events on the Hammock Coast® offer variety for whole family
This fall is an exciting time to visit South Carolina's Hammock Coast ®. Whether you enjoy live music, tasty cuisine, spooky tales or dressing up in your favorite costume, there is something for everyone to do here. Below are some of the best bets for events in the area.
MURRELLS INLET
Halloween on the Marsh Walk
Ghosts, goblins, and ghouls of all ages will take center stage at the annual Halloween on the Marsh Walk on Halloween night in Murrells Inlet. This event offers fun and prizes for the whole family. All seven of the Marsh Walk restaurants will have great food and drink specials.
Festivities begin at 5 p.m. Sunday, Oct. 31, with trick-or-treating along the Marsh Walk for the kids. The annual Children's Costume Contest is at 6 p.m. in front of Drunken Jack's at the pirate statue. Prizes will be awarded for the Most Creative, Best Group, Funniest, and Scariest for kids ages 3 and up. Kids ages 2 and under will compete for the Awes Applause award. Prizes include trophies, ribbons, and candy bags.
The Adult Costume Contest begins at 7 p.m. More than $4,000 in cash and prizes will be awarded to the top costumes. Categories include People's Choice, Best Duo/Group, Best Individual, Big & Bulky, Murrells Inlet Themed and Honorable Mention. Final Judging will be at 10 p.m. at Bovine's.
For rules, regulations and complete contest details visit www.marshwalk.com or call the MarshWalk answering service 843-497-3450.
Brookgreen Gardens
Haints, Haunts, and a Gothic Goodnight
Spend an evening under the stars at world-famous Brookgreen Gardens for "Haints, Haunts, and a Gothic Goodnight" and enjoy a Lowcountry buffet dinner followed by ghost tales from Gullah Geechee folklore told by Ron Daise, and gothic fiction performed by actor and horror icon Bill Oberst Jr., all under a waning crescent moon and the moss-draped trees in Brookgreen Garden's Arboretum.
There are two dates for the event: Saturday, Oct. 30, and Sunday, Oct. 31, both at 6 p.m., at the The Leonard Pavilion and The Arboretum.
Each evening will begin with a Lowcountry Supper buffet provided by Inlet Affairs. After dinner, Daise, famed Gullah Geechee storyteller, will take the stage and share Gullah Geechee stories of "Haints, Hags, and Plat-eyes" that may have you checking your closets when you go home.
"Stories like Taily-Po, Wiley and the Hairy Man, and Precious and the Boo-Hag are among my repertoire and always leave listeners with spine-tingling terror or amusement," Daise said. "On the drive home afterward, you may react with alarm to all sounds, sights, and spooky feelings!"
Then, Los Angeles-based actor and Georgetown County native Bill Oberst Jr. will present a "Gothic Goodnight." The Emmy-winner will recite two Edgar Allan Poe classics: The Cask Of Amontillado and The Raven, plus W.W. Jacobs' The Monkey's Paw, in a 50-minute burst of vocal gymnastics under the oaks as an autumn moon rises.
Oberst says the program is inspired by his Audible/Apple podcast Bill Oberst Jr.'s Gothic Goodnight, which features the actor performing bedtime selections of short gothic fiction.
"I'm memorizing each piece in the author's original lush language for these special Brookgreen Gardens performances," says Oberst, "after all, it is Halloween weekend – one must pay proper homage!"
Tickets are $50 for members and $55 for non-members. Your ticket includes admission and your meal. A cash bar with wine and beer will be available. The VIP ticket for $100 includes admission for one, a Lowcountry Supper Buffet with reserved seating in the Leonard Pavilion, 1 glass of wine, and premier parking.
The dinner menu includes she crab soup; vegetable soup; steamed oysters with crackers, cocktail sauce horseradish and hot sauce; Frogmore stew – shrimp, corn, kielbasa sausage and red potatoes; chicken bog; fettuccine vegetable primavera, coleslaw; rolls, banana pudding; fruit; iced tea and water.
14th annual African-American Fiber Art Exhibition
Also this autumn at Brookgreen Gardens, the 9,100-acre sculpture garden and wildlife preserve, is the 14th annual African-American Fiber Art Exhibition. It opened on July 3 but will continue its run through Nov. 25. Curated by Cookie Washington, this annual juried exhibit showcases works in fiber created by African American artists from across the country.
The 14th installment of this traveling exhibition features fiber art pieces from 23 artists who were challenged to create a pictorial fiber artwork interpreting the Adinkra symbol of Sankofa and its associated proverb to "reach back and get it."
Exhibiting artists include Aisha Lumumba, Carolyn Brackat, Torreah "Cookie" Washington, Janette Holland, Edith Gross, Joyce Daniels, and Renee Fleuranges-Valdes. The exhibit will be on display in the Lowcountry Center Auditorium daily from noon – 4:30 p.m.
Thomas Schomberg: Memories of 9/11
Also at Brookgreen through Nov. 7 is "Thomas Schomberg: Memories of 9/11" which focuses on the 20th anniversary of the terrorist attack on the United States. Brookgreen will exhibit Schomberg's series of sculptures portraying the feelings of horror, anguish, and loss following the events of the attacks on America involving the World Trade Center towers, the Pentagon, and United Airlines Flight 93.
Schomberg says, "This column series I have been focusing on over the last several years is a collection of metamorphic figures that can be best described as individual vignettes of emotion. Each sculpture, encompassing one to four figures, is the embodiment of separate and unique emotions. …These works are giving me a unique opportunity in my career to thoroughly explore the human condition as influenced by historical events." The exhibit will be on display in the Rosen Galleries daily.
Brew at the Zoo
Presented by the Friends of Brookgreen Gardens, Brew at the Zoo is always a favorite fall Brookgreen event. This year the event will be held Saturday, Nov. 6, and will be in the field next to the Lowcountry Zoo. The rain date is Nov. 7.
Tickets are $45 for members, $50 for non-members, and $25 for guests designated as drivers. Your ticket includes all the beer tasting, entertainment, and fun. One ticket is required for every person. Space is limited. The Paul Grimshaw Band will be performing.
Three vendors will be on-site for our guests who would like to purchase food. Full-size beer and wine will also be available for purchase.
All Brookgreen events are fundraisers so tickets are non-refundable; unused tickets will be considered a donation to Brookgreen Gardens. This event is only open to those aged 21 and over.
Proceeds from this year's event will benefit the upcoming new Red Wolf Habitat in Brookgreen's Lowcountry Zoo.
For more information, visit brookgreen.org/events.
Murrells Inlet 2020 17th Annual Oyster Roast
Join Murrells Inlet 2020 for the 17th Annual Oyster Roast Saturday, Nov. 20, from 11:30 a.m.-3 p.m. in the parking lot of Wicked Tuna. Enjoy all-you-can-eat oysters and live entertainment. There will be a variety of other foods to choose from, as well as a large selection of libations!
Wicked Tuna is located at 4123 U.S. 17 Business in Murrells Inlet. Tickets are $45 and be ordered by clicking here.
Litchfield Beach
Trunk-or-Treat
The Litchfield Beach & Golf Resort will host a "trunk-or-treat" event on Friday, Oct. 29, from 4-6 p.m. for "all ghouls and goblins."
The event will be held in the north side parking lot near Coastal Dish.
PAWLEYS ISLAND
Pawleys Island Festival of Music and Art
Since the first performance event in 1991, the Pawleys Island Festival of Music & Art has grown from a small community event into a mutli-week celebration of the arts attended by thousands. Past performers include Bela Fleck and the Flecktones, Edwin McCain, Blood Sweat and Tears, and the Marshall Tucker Band. It also features visual art displays throughout the area.
Upcoming performers for 2021 include:
• Lao Tizer featuring Eric Marienthal, Oct. 13, 7 p.m.
• The Black Market Trust, Oct. 14, 7 p.m.
• Atlanta Rhythm Section, Oct. 15, 7 p.m.
• Tavares, Oct. 16, 7 p.m.
• The Texas Tenors, Oct. 21, 7 p.m.
• Best of The Eagles, Oct. 22, 7 p.m.
• Destination Motown featuring Sul Cruisers Oct. 123, 7 p.m.
For tickets, visit pawleysmusic.com.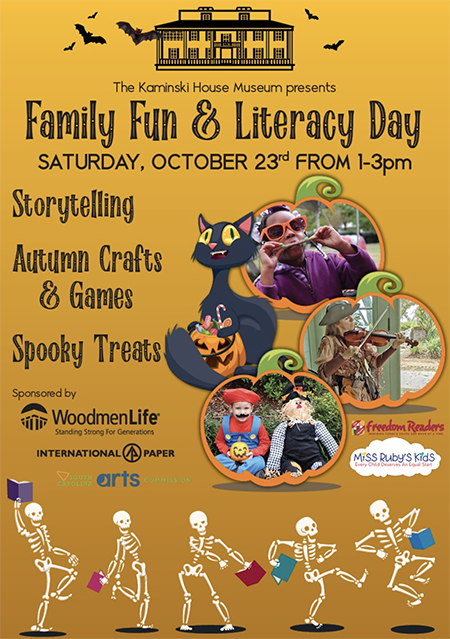 GEORGETOWN
Kaminski House Museum
Family Fun & Literacy Day
This multi-generational event at the Kaminski House Museum will take place Saturday, Oct. 23, from 1-3 p.m. Held on the lawn at historic Kaminski House, the event will celebrate literacy with storytelling and readings, in addition to featuring children's games, crafts, pumpkin face creations, a healthy foods tent and a spirited pumpkin patch.
Admission is free but children must be accompanied by an adult. For more information, call the Kaminski House Museum at 843-546-7706.
Rockin' & Roastin' on the River
This event, sponsored by Buzz's Roost restaurant and Augustus & Carolina furniture store, will take place on the Kaminski House Museum lawn from 4-7 p.m. on Sunday, Oct. 24. Enjoy fresh oysters, chowder, craft beers, and live entertainment by The Guys.
Tickets, which can be ordered online at kaminskihouse.org, or by calling 843-546-7706, are $65 and include all food and beverages. All proceeds from this event will be used to support a carousel and lighting project during the winter holidays.
Jazz Brunch
Spend a fabulous fall afternoon under the oaks on the lawn of the Kaminski House Museum from noon-2 p.m. on Sunday, Nov. 7. Experience the jazz stylings of the Denny Hess Trio while enjoying a brunch by SoCo Grille of Georgetown. It will feature Crème Brulee French Toast, Lowcountry Shrimp & Grits, three-egg omelets and a Bloody Mary bar.
Tickets, which can be ordered online at kaminskihouse.org, or by calling 843-546-7706, are $60 and include all food and beverages.
32nd Annual Wooden Boat Show
On Saturday Oct. 16, and Sunday, Oct. 17, the 32nd annual Wooden Boat Show will be held on Front Street in Georgetown. After a year of "being on the hard" with "the virus," the planners are pleased to announce that the show is back with all its exhibitors, boat building challenges, vendors, corrugated boat races, kids' activities and more.
To kick off this year's show, the museum's goat mascot, Wynnie Bay, will be delivered by boat on the Sampit River and arrive at the Georgetown City dock at 10:30 a.m. She will then be escorted to the main stage on Front Street to officially open the 2021 Wooden Boat Show.
This year will feature the crowd favorite boat building challenge in the center tent on Broad Street on Saturday. The final product will be tested in the river at 5pm. Classic wooden boats, food, music, and vendors will again add to the festival feel on Front Street and on docks in the Sampit.
Sunday will feature the Corrugated Boat building. Teams will come with pre- built vessels or build one on site. The race at 2:30 is always a guarantee to please. Sunday will also feature an opti regatta race with sailors from the museum's summer Youth Sailing Program. There will also be many other hands- on activities to enjoy.
The Wooden Boat Show is the primary fund raiser for the SC Maritime Museum. The museum is a non-profit organization whose doors are open free to the public.
Hopsewee Plantation
Just in time for Halloween, Hopsewee Plantation about 10 miles south of historic Georgetown will offer some spooky tales during "Hopsewee Hallows."
Author and storyteller Elizabeth Robertson Huntsinger will lead the events on Oct. 13, 20, and 27 from 5:30-7 p.m. Tickets are $25 for adults, $22 for seniors, $15 for youth, and $10 for children ages 6-11.
Attendees and follow up with the tour in Hopsewee's famous R iver Oak Cottage Tea Room with complimentary smoked apple cider, freshly baked pumpkin cookies, and other items for purchase.
Huntsinger is the author of several books including "Ghosts of Georgetown" and "Georgetown Mysteries and Legends." She will be available to sign books following each tour.
Hopsewee, built circa 1740, some 40 years before the American Revolutionary War, was one of the South's major rice plantations and the birthplace of Thomas Lynch Jr., one of the signers of the Declaration of Independence. It is now a private residence and open for tours.
To buy tickets to Hopsewee Hallows, call Hopsewee at 843-970-2779.
Tour de Plantersville & Cultural Festival
The Tour de Plantersville is a community bicycling event along the Plantersville Scenic Byway in Georgetown County. The 2021 event will be held on Saturday, Oct. 30. There are three routes to choose from: 12, 25, and 62 miles. The 62-mile start will begin at 7 a.m., the remaining start times will be between 8 and 9 a.m., depending on distance.
There will be rest stops along the route. Historical sites will have volunteer docents to introduce you to the history along the way, and with this tour, you will have special access to ride your bike on the properties of some of the select historical plantations along the Pee Dee River.
Registration includes access to select plantations, rest stop support, event T-shirt (for the first 200 paid registrations), lunch at post-ride festival.
The Cultural Festival is open to the public from 9 a.m. to 2 p.m. on the grounds of Plantersville Elementary School. ReggaeInfinity will perform authentic Roots Reggae from noon to 2 p.m. The festival will also feature entertainment, food, and vendors. A children's area will include inflatables, games and more, and there will be a Vendor Village coordinated by the Gullah Geechee Chamber of Commerce.
Visit the event webpage for details on costs, registration, parking, types of bikes allowed and much more. Click here: www.tourdeplantersville.com
For more information, contact the following organizers: Michelle LaRocco, project director at tourdepville@gmail.com, or Nanci Conley, COO of The Village Group, at Operations@thevillagegroup.org. Or call 843-240-0534 with inquiries.