Set sail for Georgetown's 32nd annual Wooden Boat Show on Oct. 16 and 17
Excitement is building for one of the most popular events on South Carolina's Hammock Coast®, the 32nd annual Georgetown Wooden Boat Show.
This free event, which features more than 100 classic wooden boats, and events including the Wooden Boat Challenge and a Corrugated Boat Regatta, will be held Saturday, Oct. 16, and Sunday, Oct. 17, on historic Front Street in downtown Georgetown.
Organized by the Harbor Historical Association, it also includes children's model boatbuilding, knot tying, maritime arts and crafts, food, and music. Proceeds benefit the South Carolina Maritime Museum in Georgetown.
One of the people most excited about this year's Wooden Boat Show is Lee Arthur, the poster artist for the event. He says he was honored to provide an original painting that will be auctioned off to benefit the South Carolina Maritime Museum and featured on posters and T-shirts.
"It is just one of the best boat shows I've ever seen," Arthur said. "It has always been so well organized and there are so many events, the most classic boats, and the people are great."
Arthur, who has been a working artist since graduating from Socastee High School in 1971, has lived in Murrells Inlet, McClellanville, and now Pawleys Island with his partner of many years, Gwin McKinnon. He has a daughter, Lane Arthur, also an artist, and he credits his mother, the late artist Mary Arthur Wies, for being his creative inspiration.
"I saw her work and how beautiful it was, and I just knew I could do that," Arthur said, adding that his mother created thousands of paintings and other artwork, many of which are still available on the Hammock Coast. "She was such a profound artist. She was so amazing."
He said his painting for the Wooden Boat Show, titled "Old Georgetown," combines the history of Georgetown and modern abstract art.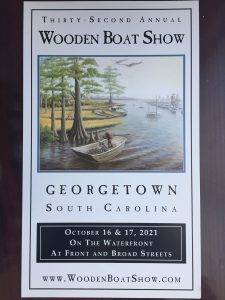 "On the left (in the painting) is Goat Island, where people are building the old bateaus, the old 20-foot oyster bateaus, and transfer bateaus to the rice fields," Arthur said. "Then, as you go across the harbor, there is Georgetown, not so well developed. I wanted to encompass a period, not just one specific time."
Organizers of the Georgetown Wooden Boat Show say Arthur's painting is perfect for this year's event. Susan Davis and Johnny Weaver, both members of the event committee, said they were impressed with Arthur's work, and it looks great on the posters and T-shirts.
"This year's oil painting is absolutely wonderful. Its soft colors and hues bring a calming feeling to the painting," Davis said. "It is also so historical in nature and scope that it will allow many interpretations, depending on one's ties to Georgetown and its history."
She added that Arthur's painting will be auctioned off on Friday, Oct. 15, during the Goat Island Yacht Club Regatta from 6:30-9 p.m. This event will feature unique live and silent auction items, as well as first-class wardroom cuisine and imbibements. Call the South Carolina Maritime Museum at 843-520-0111 for tickets.
Weaver said Arthur has been involved with the Georgetown Wooden Boat Show for several years and is "very talented." Hope McFadden, administrator of the South Carolina Maritime Museum, agreed.
"This year's art is absolutely gorgeous! A blending of time of Georgetown's past with a foggy feel that makes you excited to see where we will be heading in the future," McFadden said.
Davis said she, Weaver and the other organizers are thrilled to be hosting the 32nd annual event after a year off due to Covid-19.
"Not only is it critical as the fundamental fundraiser for our museum, it is also a premier opportunity to highlight the city of Georgetown and our surrounding Lowcountry region," Davis said. "It is very important to us that it brings people to Georgetown to support and showcase our businesses and other nonprofits."
Weaver said he is excited that the event, which was organized 33 years ago to bring business to Georgetown, is back.
"Calls are coming in from sponsors, exhibitors, boat builders and the general public asking about the event," he said, "and we are expecting a large number of exhibits and spectators this year. This will benefit the downtown businesses greatly."
McFadden said the event will offer all the traditional events, along with a few changes.
"We are hoping to expand interest in the South Carolina Maritime Museum with a new exhibit and lectures, showcase the boat exhibitors by announcing winners during the show, attract visitors to our local shops, restaurants, and more," McFadden said. "Most importantly, we look forward to making this a safe and enjoyable event for all locals and visitors with Covid precautions in place."
For more information about the boat show, including a complete list of events, visit the event website at woodenboatshow.com, or call the South Carolina Maritime Museum at 843-520-0111. Shuttles for Wooden Boat Show will be running from the Hampton Inn and the Quality Inn only.
By Clayton Stairs/tourism manager for the Georgetown County Chamber of Commerce and South Carolina's Hammock Coast®
For more information about the Hammock Coast, visit www.HammockCoastSC.com.
Want to know more about South Carolina's Hammock Coast®? Check out these stories:
Explore the county's history along the Plantersville Scenic Highway.
Historical Marker highlights history of Pawleys Island Chapel.
Hammock Coast beaches get high marks from visitors.
Pawleys Island Festival of Music and Art set for October.
Discover 5 paths of Gullah-Geechee Culture on the Hammock Coast.