Patriotic events set for Independence Day on South Carolina's Hammock Coast 
Whether you enjoy parades on land or water, a patriotic flyover while enjoying beach time, live music, or fireworks, there are events for everyone to celebrate America's birth this July 4th on South Carolina's Hammock Coast.
And a year after most events were canceled due to the Covid-19 pandemic, residents and visitors will once again have an opportunity to celebrate as in years past.
Several traditional events are planned for July 4, 2021, in Murrells Inlet, Pawleys Island, North Litchfield Beach, Litchfield Beach and Georgetown to make this year's celebration the best one yet.
"Visitors to the Hammock Coast are in for a real treat this year, no matter which events they choose to attend," said Mark A. Stevens, director of tourism development for the Georgetown County Chamber of Commerce. "Come celebrate a joyous Independence Day with us."
Here's a look at the events:
ALONG THE ENTIRE SHORELINE
OF THE HAMMOCK COAST
Military flyover
Around 1 p.m. on July 4, everyone who is on Hammock Coast beaches will be dazzled by a military flyover with several large and small aircraft, both modern and vintage.
Spectators are asked to wave flags and dress in patriotic attire. Record your Salute on camera and share it with the world on Facebook, YouTube, Twitter, Instagram, a blog, or any other place you want. A video of the waving crowds of beachgoers will be made available online.
The Salute to the Shore travels the entire South Carolina coast, starting in Horry County and ending in Beaufort County. The Hammock Coast offers some of the best viewing for the Salute, so residents and visitors alike at encouraged to gather on beaches in south Garden City, Murrells Inlet, Litchfield Beach and Pawleys Island.
The Salute from the Shore first began on July 4, 2010. Assisted by a C-17 from Charleston AFB, the event has grown in popularity each year.
For more information, click here.
MURRELLS INLET
Boat Parade
The 38th Annual Murrells Inlet boat parade will begin at 3 p.m. Festively decorated boats will cruise through the inlet and pass by patriotically decorated docks. The best viewing locations are along the Murrells Inlet Marsh Walk, the Murrells Inlet Veterans' Pier, Belin Memorial United Methodist Church, and the Jetty View Walk on the south end of the inlet.
The parade winds from Garden City Point through the Murrells Inlet Marsh Walk, all the way down to Hot Fish Club. The theme for the 2021 event is "Stars, Stripes and Fireworks."
To encourage more participation, the committee has decided to waive the boat entry fee, according to Lee Hewitt, co-chairman of the Murrells Inlet Boat Parade. Awards will not be distributed this year either, he said.
T-shirts will be available for purchase at $10 each. Proceeds will benefit the Belin United Methodist Church Boy Scout Troop 396.
"The parade committee would like to remind participants and spectators to protect the coastal wetlands and refrain from littering during this event," Hewitt said. "Boat and dock decorating participants are asked to avoid incorporating elements into their design that involve throwing objects into the water, including water balloons, which pollute the environment and are harmful to the local wildlife."
After the parade, participants may opt to enjoy a meal and drinks while listening to live music all day at one of the Marsh Walk restaurants: Bovine's, Wahoo's Fish House, Drunken Jack's, Creek Ratz, Dead Dog Saloon, The Claw House, The Wicked Tuna, and Mojo's Marina Bar and Grille. And stay late for fireworks.
Fireworks Show
Witness the Hammock Coast's largest fireworks show, the annual Fourth of July Fireworks on the Marsh Walk, which starts at 10 p.m.
"We are very excited about bringing back our annual Fourth of July Fireworks Show on the Marsh Walk as we missed offering it last year due to the pandemic," said Christina Burzler with Brickyard Marketing. "This event has become such a family tradition for so many in our community and was greatly missed in 2020."
NORTH LITCHFIELD BEACH
Golf Cart Parade
Residents and visitors of North Litchfield Beach and their golf carts will be decked out in red, white and blue to participate in the annual Golf Cart Parade from 10 to 11 a.m. Line up starts on Harmon Street about a half hour before the parade starts.
It may not be the biggest event for the Fourth, but it's got heart and plenty of Hammock Coast soul.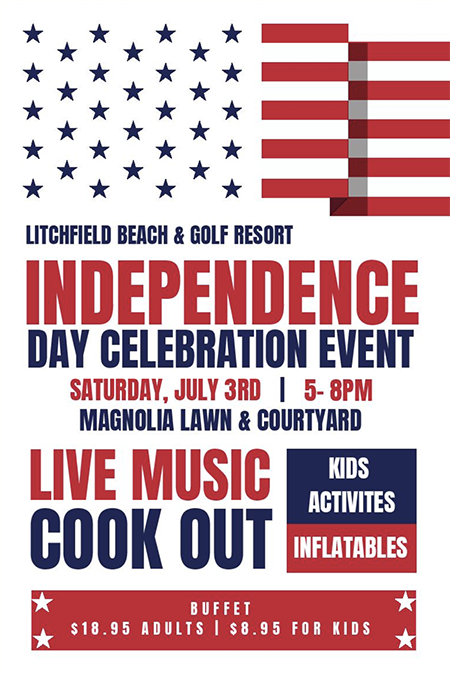 LITCHFIELD BEACH
Litchfield Beach and Golf Resort will host an Independence Day Celebration event on Saturday, July 3, from 5-8 p.m. in the Magnolia Lawn & Courtyard. There will be live music and a cookout, as well as kids activities and inflatables.
PAWLEYS ISLAND
Parade
The Fourth of July Parade on Pawleys Island will begin at 10 a.m. Visitors and locals will parade down Myrtle and Atlantic avenues on the historic island in anything that becomes a makeshift float – be it a boat, car, or flatbed truck – decorated in true patriotic fashion.
Prizes that will be awarded include: Best Overall Float (1st, 2nd & 3rd places), Best Children's Float, Most Enthusiastic Float, Most Humorous Float, Most Original Float, Most Patriotic Float. Honorable Mention, Best House (1st, 2nd & 3rd places), Best Dock (1st, 2nd & 3rd places).
To enter a float in the parade, participants should stop by Town Hall, 323 Myrtle Ave., for an application. The cost to enter is $20 in advance, or $25 the day of the parade. Applications will be available Monday to Friday, from 10 a.m.-5 p.m. until the day of the parade.
Official Pawleys Island 4th of July T-shirts are already available at the old Town Hall, across the street from the new Town Hall. They are sized as follows: Toddler: 2T – 4T, $15 each; Youth: XS-L, $20 each; and Adult S-3X, $20 each.
"The Pawleys Island Parade is a fun, family tradition on the 4th," said Ryan Fabbri, town administrator.
For more information, visit the Town of Pawleys Island Facebook page by clicking here.
GEORGETOWN
Kaminski House Concert on the Lawn
The Kaminski House Museum will present a 4th of July concert featuring the Indigo Choral Society on the lawn of the historic home starting at 6:30 p.m. Highlights of the concert will include a Color Guard and songs from the American genre, Carolina-themed songs and a salute to the Armed Forces. Participants are encouraged to bring lawn chairs, favorite snacks and beverages and celebrate a hometown Fourth of July.
Fingers are crossed for a successful event in 2021.
"This is always one of the museum's favorite events," said Kim Leatherwood, deputy director of the museum. "This concert will be all the sweeter since this event was called off because of an intense rainstorm in 2019 and then canceled due to the Coronavirus in 2020."
The holiday concert typically draws a huge crowd into the city of Georgetown.
"We love seeing the sea of red, white, and blue shirts and colors on the lawn," Leatherwood said. "This year, we are thrilled to announce that Kona Ice will be with us to keep everyone cool. We are also planning a few other surprises."
Loril Young, a member of the Indigo Choral Society, added, "This is really our biggest performance of the year. Our singers have such a fabulous time with this concert. This performance is for Georgetown."
The concert is free and scheduled on the lawn of the Kaminski House Museum, but in the event of rain, the concert will be moved to First Baptist Church of Georgetown.
For more information about the concert, click here.
Fireworks Show
This year's fireworks in historic Georgetown will begin at 9:30 p.m. and launch from East Bay Park. The best viewing areas are along the Georgetown Harborwalk or anywhere along the Sampit River across from East Bay Park.
Compiled by Clayton Stairs/tourism manager for the Georgetown County Chamber of Commerce