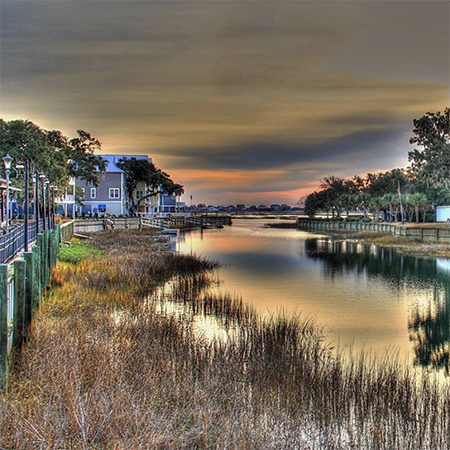 Murrells Inlet recognized as 'Top 10 U.S. Affordable Beach Town'
Locals and visitors to South Carolina's Hammock Coast already know that Murrells Inlet is one of the most beautiful, laid-back and friendly towns in the country.
Now, researchers with realtor.com have named Murrells Inlet as one of the "Top 10 U.S. Affordable Beach Towns for Retirement and Relaxation."
"Retirees are undoubtedly drawn to these areas by the active, beach lifestyle," said Danielle Hale, chief economist for realtor.com. "And the relative affordability of homes in these towns means more of a fixed income is left over for fun, which probably makes the case for sticking around."
Other places named to the list were Venice, Florida; Morehead City, North Carolina; Lewes, Delaware; Toms River, New Jersey; Coos Bay, Oregon; Seal Beach, California; New London, Connecticut; Rockport, Texas; and Hyannis, Massachusetts.
To come up with the list, researchers looked at more than 1,300 towns on the water but pulled off the places that are located on lakes or rivers because "this list is all about tasting the salt in the ocean breezes," according to a June 29, 2020, article on realtors.com by Sara Ventiera. The team then cut the selections to one place per state, for a wider variety of options.
The ranking was based on the population of residents aged 55 and over per capita, affordability based on median list price, access to hospitals and other health-care facilities, the number of amenities like golf courses (for low-impact exercise) and country clubs (for the social scene), as well as marinas and water-recreation businesses like boating and fishing, for that all-around beach town experience.
In the article, Ventiera described Murrells Inlet as a "former fishing village … bordered by a beautiful marsh shoreline and dotted with wooded areas."
"Just 15 minutes south of the bustling tourist shops, boardwalks, and mini-golf courses of Myrtle Beach, Murrells Inlet offers retirees a quiet respite from that popular vacation town," Ventiera wrote. "The mild weather, coastal scenery, good airport, and myriad amenities have made Murrells Inlet a desirable retirement destination for Northeasterners seeking a break from high tax rates and harsh winters."
As part of South Carolina's Hammock Coast, Murrells Inlet is situated between Myrtle Beach to the north and Charleston to the south, giving the Georgetown County community proximity to larger cities but the added advantage of being somewhat off the beaten path.
Ventiera also noted that the median price for buying a home in the Murrells Inlet area is $329,950.
"Retirees," she wrote, "can get into affordable homes starting at just under $200,000."
Realtors that sell homes in Murrells Inlet say it is one of the best areas to live with beaches nearby in Garden City, Litchfield and Pawleys Island, as well as attractions like the Murrells Inlet Marsh Walk, a boardwalk along the waterfront; Brookgreen Gardens, a nationally recognized sculpture garden and wildlife preserve; and Huntington Beach State Park, one of the best birding sites on the East Coast, just down the road.
Whitney Yonce Hills, a Realtor with South Strand Realty, has lived in the area since 1992 and says she thinks it's perfect for retiring and relaxation, but also keeping active.
"Murrells Inlet is a resort community with a sense of community and sometimes that is not easy to accomplish," Hills said. "People who move here can become involved in the community through a variety of volunteer opportunities with local groups."
She said residents and visitors of Murrells Inlet not only have access to the ocean but the Waccamaw River and the Intracoastal Waterway. Also, people who enjoy bicycling have the option of riding through Murrells Inlet and down to the state park on a continuous bike path.
Hills says she is happy to be a resident of Murrells Inlet and wouldn't want to live anywhere else. She also enjoys sharing her enthusiasm with people interested in becoming residents.
"Nothing makes me happier than showing people around Murrells Inlet because it is so beautiful and it is an incredible place to live," Hills said. "I can truly stand in front of them and say, 'I love it!'"
To read the full realtor.com article, go here.
— By Clayton Stairs, tourism manager, Georgetown County Chamber of Commerce