International Gullah Film Festival gets under way in Georgetown
The opening weekend of the 2022 International Gullah Film Festival will feature a full slate of events, highlighted by a screening of "Freedom of North Carolina," director James Jones Jr.'s new film. 
The TIGFF, which runs from April 1-16, will kick off with an opening reception and networking event at the Access Alliance Insurance Group Office at 6 p.m., followed by the screening of "Freedom of North Carolina" at The Howard Auditorium on Front Street in historic Georgetown. Jones will be in attendance.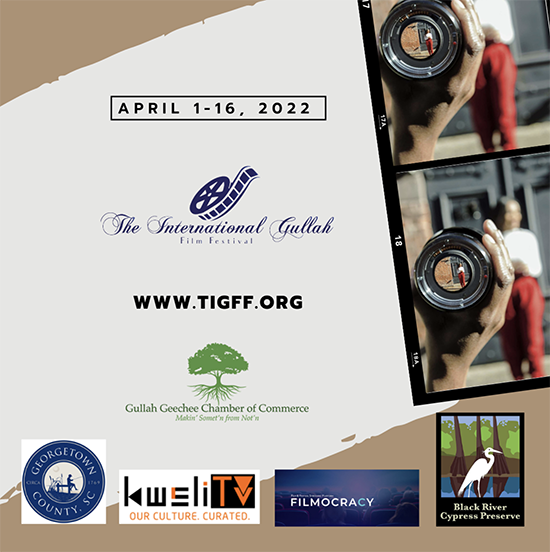 Chronicling the story of a family enslaved on a Hoperville Plantation, the film focuses on the daily struggles of a 14-year-old girl and the emotional rollercoaster the family must endure. 
On April 2, the TIGFF will move to Black River Cypress Preserve in Andrews where a VIP Network Panel Discussion (6 p.m. – 7:45 p.m.) will be followed by the screening of several short films. The following movies will be screened: 
Glory Mountain, directed by Felicia Rivers
Fevered Dreams, directed by L.M. Davis
Requiem For Black Love, directed by Eric Almond 
Sweet Home Alabama: A Chief And His Protege, directed by Frederick Murphy
Hello Yesterday, directed by Imole Ladipo
The viewing schedule for the rest of the TGIFF is as follows:
April 4
The Howard Auditorium, 10 a.m. 
Senior Screening
The Nine O'Clock Whistle
Afrikan By Way of American 
54 Years Late
Judge Yancey And The 17 Hand Mule
April 5
The Howard Auditorium, 7 p.m. 
Business Incubator
Radio Theatre For Your Soul
My Skin Is Not A Sin
The Adventures Of A Black Traveler
Borders And Frontiers Of Gender
April 9
The Howard Auditorium, 10 a.m.
Vendor Village
The Hurt We Share
Something's Off
The Gratitude House
AKA The Winner
The Knell
Karla's Magic Soul
Justin And The Werloobee
On/Off
Hatsheput
9 Wives
The First Queen 
April 15
The Howard Auditorium, 11 a.m. – 5 p.m. 
Marylin Hemingway Presentation
Minnesota: The Modern Day Selma
Not Fair
The Return Of Us
The Day I Had To Grow Up
Valentine's Night
Amuka
April 16
The Howard Auditorium, 11 a.m. – 3 p.m. 
Gullah Preservation Society Closing Finale
TIGFF will also have a virtual program sponsored by Filmocracy.com. A slate of 17 short films and documentaries will screen along with professional presentations and an excerpt reading of "Root Magic" followed by a Q&A with author Eden Royce on April 9 at 4 p.m.
Tickets for the TIGFF are $25. 
For more information on the Gullah International Film Festival, visit www.TIGFF.org. 
By Chris King for South Carolina's Hammock Coast®