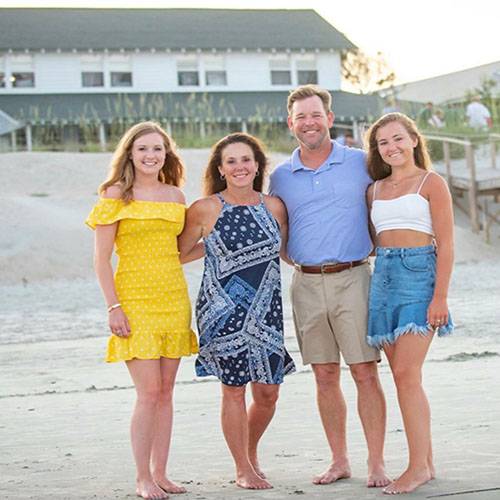 For a season like no other, Pawleys Island's Sea View Inn makes unique change
Since it was built in 1937, Pawleys Island's Sea View Inn has served guests as a "barefoot paradise," welcoming visitors to laidback and tranquil accommodations that were, somehow, a step back in time. 
But, as the COVID-19 pandemic swept across the globe and into South Carolina, owners Brian and Sassy Henry quickly surmised that the 2020 summer vacation season would be different than anything that's come before in the inn's 83-year history. Rather than offering the usual rental of 20 individual rooms and cottages, the Henrys decided to offer a rental of the entire inn per week through Aug. 30 and a three-day minimum after that. 
"With people coming here from all over the country and outside the U.S. every year, this was the only way we could figure out how to be open and operational, while keeping our staff and guests safe," Sassy Henry said.  
The change — from traditional bed-and-breakfast to full-house rental — will allow, for example, whole extended families unique use of the inn, one of only two historic inns and commercial properties on Pawleys. It almost seems, Sassy continued, to be a natural extension of the family atmosphere that has always been a Sea View Inn hallmark. 
"Since guests come during the same time each year," she said, "we are like one big family, and it is pretty much their house as much as it is ours so they understand what we are having to do." 
Brian Henry, who serves as the mayor of Pawleys Island, agreed. 
"There was no thorough way to adequately accommodate everyone's different tolerance for social distancing, including wearing masks," he said. "This way, we give people who love coming here a unique opportunity to have the place to themselves." 
It's not the first time the Sea View Inn has weathered trying times. In 1954, Hurricane Hazel, a Category 4 storm, blew ashore, destroying 40 homes on Pawleys and devastating the inn, which wasn't completely rebuilt until 1956. Likewise, the inn suffered water damage from Hurricane Hugo in 1989 and required considerable repairs before reopening in the spring of 1990. 
The Henrys have owned the Sea View Inn since 2002 after they moved to Georgetown County and South Carolina's Hammock Coast from Atlanta, Georgia. 
Sassy said that many of the inn's regular guests have already signaled support for the changes in how the inn will be rented during 2020. Still, she said, she hopes the change is only temporary, allowing the Sea View to operate normally in the summer of 2021. 
"We have been pleased with the response from many of our longtime guests who have been very supportive of how we have gone about it," Sassy said. "Most of the people who have rented it so far are our regular guests who are bringing extended family." 
Under the new plan, the Sea View Inn may be rented for up to 16 people (and a maximum of 20 for an additional fee). The rental will include eight oceanfront rooms and four cottage (air-conditioned) rooms. Guests will receive full daily breakfast served by Sea View Inn staff, daily housekeeping service and private beach access with beach chairs and umbrellas. Guests will also have access to a private creek dock for crabbing, kayaking, and cocktailing, as well as onsite massages. 
The fee for booking the inn will be $12,000 for the week for up to 16 guests, plus gratuity and applicable taxes. There will be a fee of $100 per person, per night for up to four additional people. While the inn will not offer its traditional lunch and dinner dining service, there are many restaurants on the Pawleys Island mainland that offer dine-in, takeout, and food-delivery options.  
"We will be happy to assist with suggestions and recommendations," Sassy said. "Since we also own Get Carried Away (a takeout-and-catering service), if groups want lunch or supper, we can do it a la carte, buffet-style, or however they choose." 
She said the decision to make the change was difficult but necessary, and she stressed the importance of protecting customers and staff from the COVID-19 virus. 
"It is not easy, because clearly it is a hit financially, but, at the end of the day, we are fortunate to have our other business to bridge the gap," Sassy said. "We are also fortunate to be able to employ our staff and maintain some type of Sea View normalcy." 
The Henrys also say they're lucky to have their two college-age daughters, May May and Camille, and nephews from Atlanta, Rankin, Grayson, Turner and Hayes Woley, to help them in both businesses. 
For the Henrys, it's been an honor to continue the legacy of the Sea View Inn on Pawleys Island. Previous owners include Celeste and Will Clinkscales; Thelma Albright, Alma Hull and Loma Squires, who rebuilt it after Hurricane Hazel; and Page Oberlin. 
"Brian and I feel fortunate to be the stewards of this historic place," Sassy said. "It is the best thing we could have ever done." 
To reserve the Sea View Inn, call Manager Kipp Chrismer at 843-237-4253, or email her at seaviewinn@sc.rr.com. She will provide more details on rates and availability. Book online by using this link: https://www.seaviewinn.net/rates-booking/ 
For more about the Sea View Inn, visit https://www.seaviewinn.net. For more about Pawleys Island, visit http://www.onlypawleys.com, and for more about South Carolina's Hammock Coast, visit https://www.hammockcoastsc.com. 
— By Clayton Stairs, tourism manager, Georgetown County Chamber of Commerce