33rd Georgetown Wooden Boat Show to set sail
South Carolina 's Hammock Coast® is gearing up for the Georgetown Wooden Boat Show.
The show is one of the most popular fall events in the area. It features more than 100 classic wooden boats. Events including the Wooden Boat Challenge and a Corrugated Boat Regatta.
The 33rd annual Georgetown Wooden Boat Show, a free event, will be held Saturday, Oct. 15, and Sunday, Oct. 16, on Front Street in downtown Georgetown. Organized by the Harbor Historical Association, it also includes children's model boatbuilding, knot tying, maritime arts and crafts, food, and live music. Proceeds benefit the South Carolina Maritime Museum in Georgetown.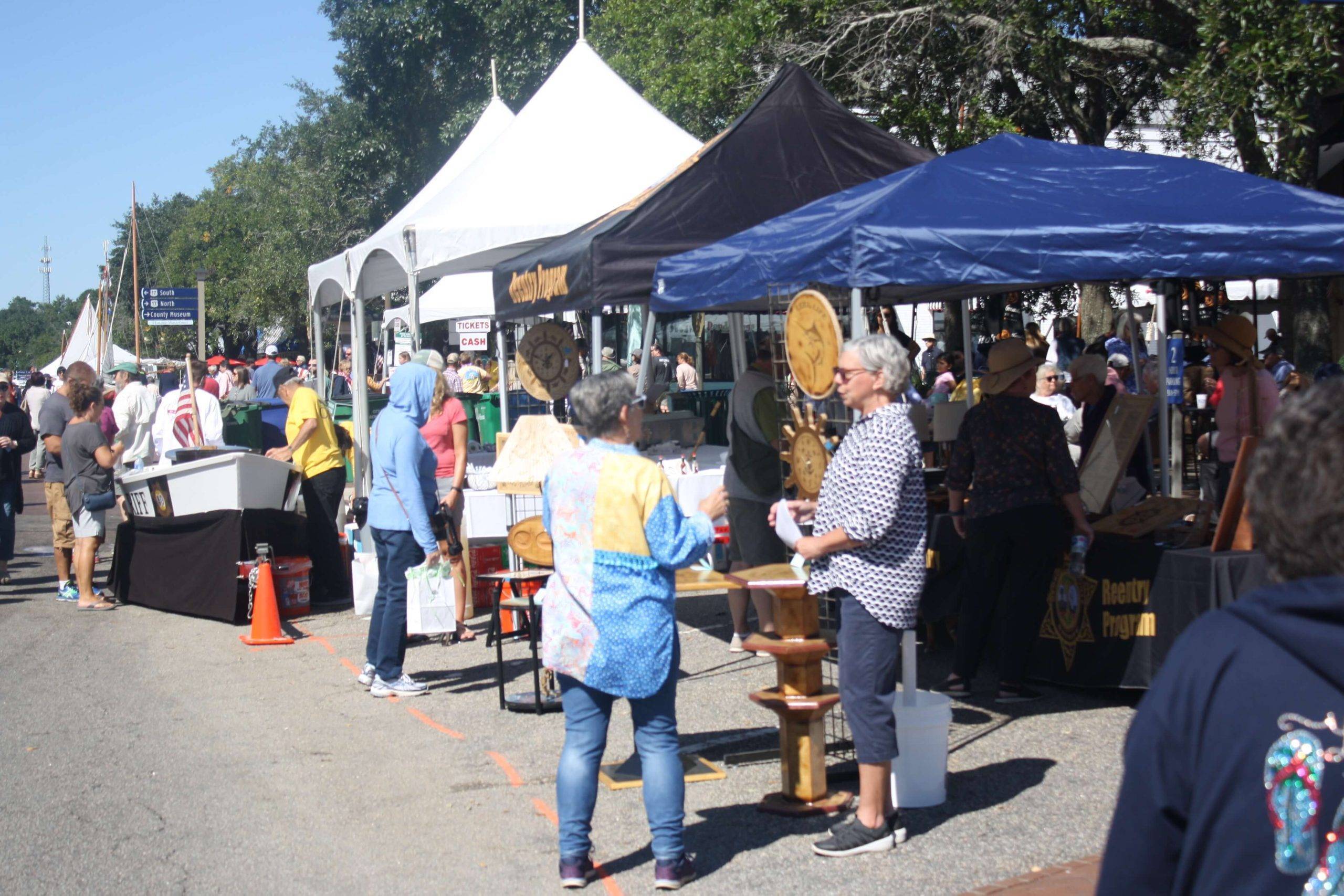 Members of the Georgetown Wooden Boat Show event committee – Hope McFaddin, director of the South Carolina Maritime Museum and board members Susan Davis and Johnny Weaver – said they're thrilled to be hosting the 33rd annual event this year. It is dedicated the Sid Hood, one of the show's founders who died unexpectedly this year.
"We are excited to welcome old friends and new to the 33rd Annual Georgetown Wooden Boat Show," McFaddin said. "As the largest fundraiser for the South Carolina Maritime Museum, the Wooden Boat Show encompasses some of the maritime heritage that we share with locals and visitors every day at our museum."
Davis agreed.
"Not only is it critical as the fundamental fundraiser for our museum, but it is also a premier opportunity to highlight the city of Georgetown and our surrounding Lowcountry region," Davis said. "It is very important to us that it brings people to Georgetown to support and showcase our businesses and other nonprofits."
Weaver said the show was originally organized to bring business to Georgetown.
"After 33 years, it still gets better every year," Weaver said. "We feel that the show this year will be better than any before, and we are looking forward to seeing everyone again."
Main events
The two main events during the Wooden Boat Show are the Wooden Boat Challenge, held on Saturday, Oct. 15, and the Corrugated Boat Regatta, held on Sunday, Oct. 16. Both events involve teams working together to build, and then race, a boat.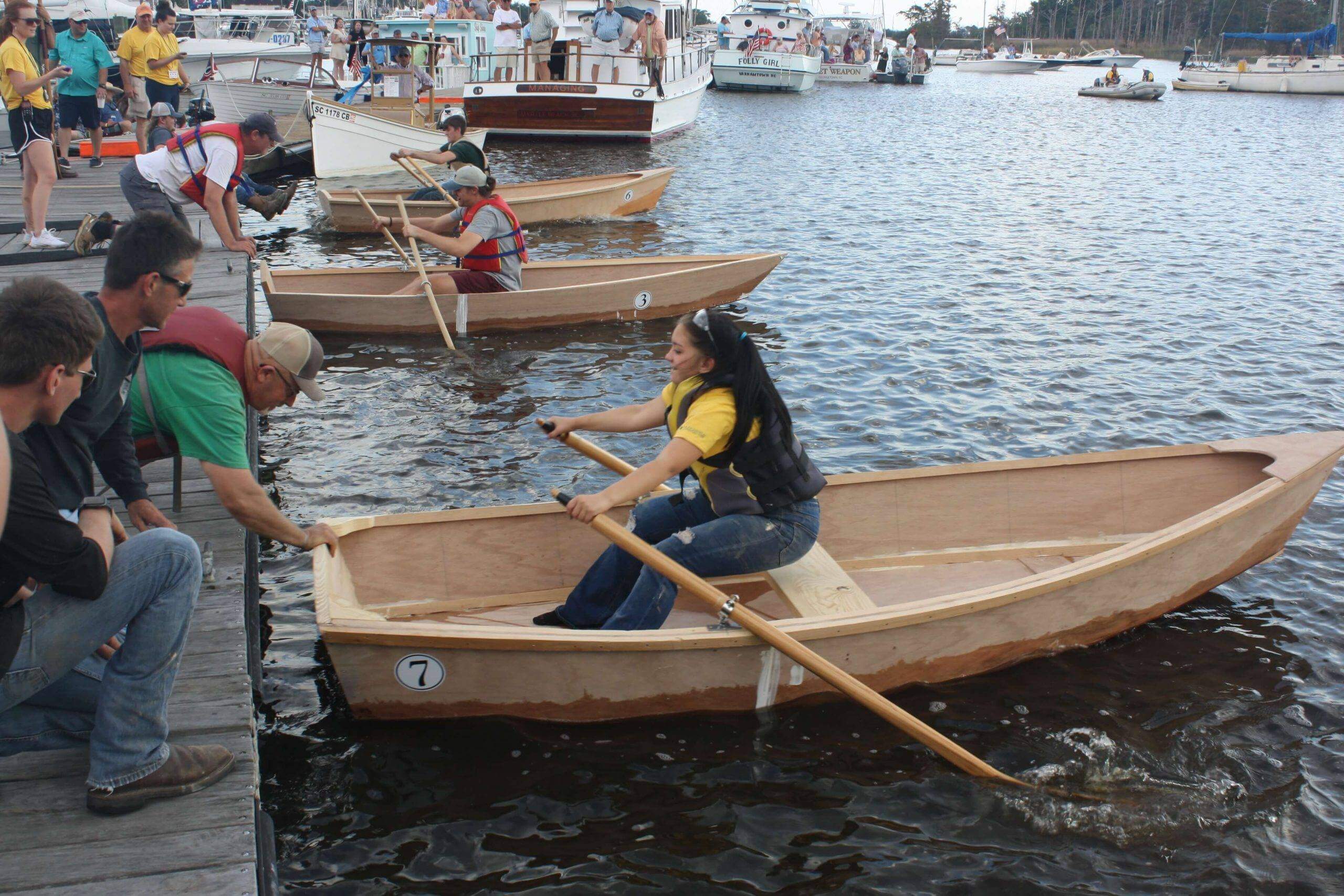 In the Wooden Boat Challenge, teams of two work to build a 12-foot wooden rowing skiff called the Carolina Bateau with a time limit of four hours, from noon to 4 p.m. on Saturday. Then they test their boats for seaworthiness, at 5 p.m., in a rowing relay on the Sampit River. The teams are judged on construction speed, quality of work, and rowing speed. Cash prizes are awarded to first-, second-, and third-place winners.
The Corrugated Boat Regatta features larger groups working to build a boat made entirely out of corrugated cardboard. No other construction materials are allowed, except for tape, waterproofing, and corrugated oars to propel the craft. No wood, no metal, no motors—just corrugated cardboard and, of course, imagination. Boat building and display are from 10 a.m. to 2 p.m. and the race starts at 2:30 p.m. on Sunday.
Boats range from simple rafts to stunning ships, and they must be able to float on the Sampit River. For those that cannot, there is a Titanic Award for the team that has the most dramatic sinking. Other awards include the Pride of the Fleet Award, given to the boat that best combines innovative engineering with artistic design, and a Team Pride Award for the team with the greatest spirit and crowd involvement.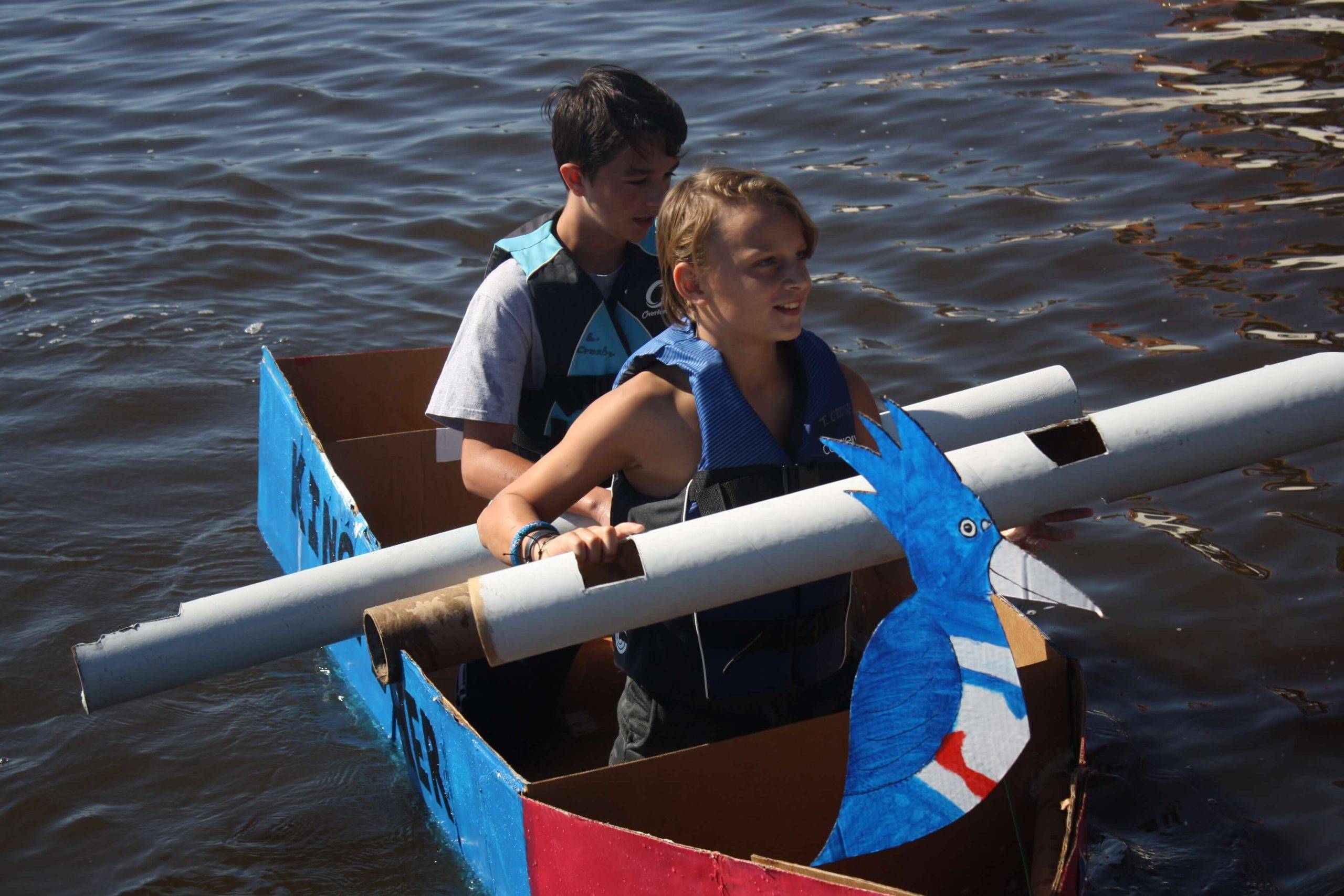 "We have something for craftsmen, artisans, boat lovers, and the like," McFaddin said. "The support we receive from local families and businesses make it possible for us to be one of the most popular events in the area."
For a complete list of events, click here.
Featured artist: Barnie Slice
This year's featured artist for the event is Barnie Slice of Pawleys Island. His oil painting, titled "The Race's End," depicts participants in the Wooden Boat Challenge with a large crowd and The River Room Restaurant in the background.
"I was very honored to be chosen," Slice said. "I enjoyed doing the painting, adding the features in there and all the people in the crowd."
He said he was also honored to pay tribute to Hood by including The River Room, the popular restaurant Hood owned with Sally Swineford and the birthplace of the Wooden Boat Show, in his painting. It is one of two original oil paintings to be auctioned on Friday, Sept. 14, during the Goat Island Yacht Club Regatta, the other being a closeup of a Wooden Boat Challenge participant rowing his boat. Slice will be signing copies of the poster during the event.
"We asked Barnie to change his original painting to include The River Room," Weaver said. "He presented a totally new painting."
The forefront of the second painting shows the wooden competition boats. In addition to The River Room and the crowd, the painting also shows a sailboat owned by Fred Wickman, who passed away several years ago.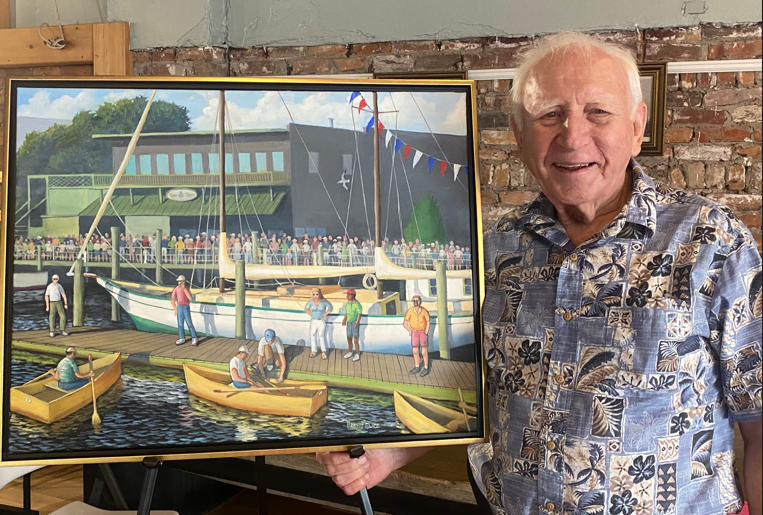 "Fred was a long-time participant in the boat show and an avid supporter and friend," Weaver said.
Weaver said he has always been impressed with Slice's artwork.
"Barnie Slice is a very talented artist to say the least," he said. "He is also very accommodating and easy to work with."
McFaddin said in addition to his incredible talent, Slice is also an awesome person.
"His spirit, kindness, generosity, and humor make Barnie one of those special people that always put a smile on your face," she said.
McFaddin said Slice's painting shows the essence of the Wooden Boat Show.
"I love that Barnie's painting captures … the crowd enjoying the race at the end of the day with The River Room Restaurant in the background," she said. "This year's painting is special as it is in memory of one of the founders of the Wooden Boat Show, Sid Hood. We are grateful for Sid's dedication as he was able to leave a legacy for so many to enjoy."
Slice has been a professional, self-taught artist for 65 years and is known for his attention to detail. He is available for commissioned pieces based on photographs, and exhibits his work in several locations, including the Island Art Gallery in the Island Shops in Pawleys Island, where he is a co-owner, as well as Litchfield Books and Applewood House of Pancakes in the Pawleys Island area.
"I love painting and it is what keeps me going," Slice said. "I tell people, 'If I can see it, I can paint it.' "
To view Slice's paintings online, follow him on Facebook, where he posts his artwork, as well as sermonettes, in which he contemplates life's many blessings. To contact Slice, email him at bslicejr@sc.rr.com or call 843-602-3369.
The Wooden Boat Show is one of the most popular events in Georgetown County. The county's charm and Southern hospitality earned it the nickname of South Carolina's Hammock Coast. Adventure and relaxation blend together in perfect harmony, like the flowing and ebbing of waves on the county's famed beaches. With six communities – Garden City, Murrells Inlet, Litchfield Beach, Pawleys Island, Georgetown and Andrews – comprising the pristine coastal area between Myrtle Beach and Charleston, visitors can experience South Carolina's Hammock Coast like never before.
Georgetown and the coastal communities offer an abundance of accommodations for guests, including vacation rental properties, hotels and cozy bed and breakfasts. Georgetown marinas welcome boaters from around the globe. The beach communities of the Hammock Coast — only minutes from historic Georgetown — offer beachfront homes, condos and more for those who want to expand their stay beyond the tournament.
For more information about the Georgetown Wooden Boat Show, visit the event website at woodenboatshow.com, or call the South Carolina Maritime Museum at 843-520-0111.
By Clayton Stairs/tourism manager for the Georgetown County Chamber of Commerce and South Carolina's Hammock Coast