Meet Five Women Who Made History on the Hammock Coast
Some remarkable women have shaped the history of Georgetown County, South Carolina — from educators and artists to trail-blazers and entrepreneurs. This article will take a look at five of those women: a world-famous sculptor; a famous equestrian and philanthropist; a postbellum rice grower and author; a teacher who brought education to Black children before they could attend government-funded schools; and a botanist. are just a few of the many extraordinary women who have made their homes in the Waccamaw Neck — the area along the South Carolina coast between Murrells Inlet and Winyah Bay. Read on to learn more about these remarkable women — and maybe even walk in their footsteps.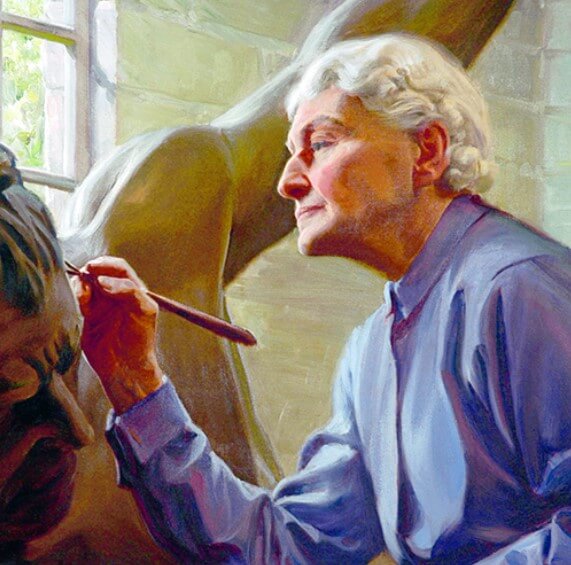 Anna Hyatt Huntington
World-renowned figurative sculptor Anna Hyatt Huntington was born in 1876 and began her studies of the animal form at a young age, encouraged by her father, Alpheus Hyatt Jr., a paleontologist and biologist associated with Harvard and MIT. Many of the animals she studied on field trips with her father and on the family farm became subjects for her art, which she began creating as a teenager. Although she studied briefly under other sculptors, she was largely self-taught, and by 1912 she had installed her most famous work, Joan of Arc, in New York City to critical acclaim.
By the time Anna married philanthropist and scholar Archer Huntington in 1923, she was already a successful artist earning more than $50,000 a year for her work — quite a sum at that time. But her husband's wealth freed her from having to sell her pieces, and she later kept many and donated others to public locations and museums around the world. Her work often depicted animals in action, such as Fighting Stallions, on display at the entranceway to Brookgreen Gardens on the Waccamaw Neck — established by Anna and Archer as the first public sculpture garden in the country and featuring several of her own works and those of other artists.
Visitors can learn more about the life of this extraordinarily talented woman by visiting Brookgreen and the Huntingtons' neighboring home, Atalaya Castle, at Huntington Beach State Park.
Belle Baruch
Belle Baruch was an award-winning equestrian.
She is often described as the daughter of Wall Street financier Bernard Baruch, who entertained U.S. presidents and world leaders at Hobcaw Barony, a 16,000-acre tract of land north of Georgetown that was once used to grow rice and later internationally famous for duck hunting.
But Belle Baruch was so much more than a stockbroker's daughter. She was a feminist and suffragist, a conservationist, and an award-winning equestrian who stood at 6-foot-2, with a strength of character and a streak of independence to match her stature.
Belle was born in 1899 and grew up hunting, sailing, and riding horses at Hobcaw. After inheriting one million dollars on her 21st birthday, she went off to see the world. In Europe, she competed in international equestrian competitions, acquiring her competition license from the French because the U.S. Embassy would not issue one to a woman. At the Paris Horse Show in the spring of 1931, Baruch achieved the only perfect score out of 119 riders — the rest of whom were men.
Concerned about his daughter, who was of Jewish descent, traveling in Europe as tensions mounted preceding World War II, Baruch's father sold her Hobcaw Barony on the condition that she move back home to manage it. Back in Georgetown County, she spent nights on the beach watching for foreign agents from German U-boats landing on shore. A letter to Baruch from J. Edgar Hoover, thanking her for her service, acknowledged that at least one foreign agent was captured because of her information. As a licensed pilot, she also allowed the Army Air Corps to use two of her personal airplanes during the war.
Baruch died in 1964 and established in her will the Belle W. Baruch Foundation, ensuring that the land and marine ecosystems at Hobcaw Barony are preserved and dedicated to research and education.
Ruby Forsythe
Thanks to the nonprofit Miss Ruby's Kids, Ruby Forsythe's legacy lives on.
When Ruby moved to Pawleys Island with her husband to teach in the one-room school of the Holy Cross-Faith Memorial Episcopal Church in 1938, public education wasn't available to Black children in Georgetown County. The school received no public support and relied solely on tuition, but Forsythe never turned a student away because of an inability to pay, instead offering families the option to do work at the school.
In addition to academics, she believed in teaching children about right and wrong. "Despite her loving, kind way, she was a strict disciplinarian," says Lee Brockington, author of Plantation Between the Waters: A Brief History of Hobcaw Barony. "And with one [raised] eyebrow, just by peering at the doorway, she could get every single student to sit down and behave."
Ruby taught in the one-room school for 53 years and received many honors for her work. President George H.W. Bush named her as one of the nation's "Thousand Points of Light," an award honoring service. She was included in Newsweek magazine's article "America's Unsung Heroes," and she was interviewed for 60 Minutes. She died in 1991, but her legacy of education continues. In 2003, the nonprofit early-literacy organization Miss Ruby's Kids was founded in her honor.
To learn more about Forsythe, visit the Rice Museum in Georgetown, which features an exhibit on her life and accomplishments.
Elizabeth Allston Pringle
Elizabeth Allston Pringle was an independent woman.
Born in 1845, Elizabeth Allston Pringle was an independent rice grower and published author during a time when women were almost always financially dependent on their husbands or fathers. She was the daughter of Adele Petigru and innovative rice grower and South Carolina governor Robert Francis Withers Allston.
Her family lost all its property during the Civil War after her father was forced to mortgage most of his assets. Pringle taught briefly at a school established by her mother in Charleston until the family was able to regain ownership of Chicora Wood, a plantation north of Georgetown.
After the death of Pringle's mother and husband, she took ownership of Chicora Wood and her husband's plantation, nearby White House. She managed both farms, growing rice successfully until the 1900s, when rice farming ceased to be profitable in South Carolina. Facing financial hardship but ever the resourceful thinker, Pringle contacted the editor of the New York Sun, persuading him to publish essays about her experience as a female plantation owner.
Her articles were later published in the best-selling book A Woman Rice Planter. Her second book, Chronicles of Chicora Wood, was published following her death in 1921.
"As an unmarried person, and as a widow, she did amazing things," Brockington says. "She was a thinker. She was a doer."
Visitors to the Georgetown County Museum can learn more about the life of this extraordinarily independent woman.
Eliza Lucas Pinckney
Eliza Lucas Pinckney was responsible for South Carolina's important indigo industry.
The lucrative indigo industry that brought wealth to the Hammock Coast during the latter half of the 18th century was developed thanks to one woman: Eliza Lucas Pinckney.
Eliza came to South Carolina from Antigua with her father, George Lucas, in the late 1730s. When Lucas returned to the Caribbean not long after, he left 16-year-old Pinckney in charge of his three plantations, including one on the Waccamaw River.
Pinckney was well-educated and skilled in botany, and she experimented with planting several crops, including indigo — a tropical plant whose seeds her father had sent to her from the Caribbean. By 1744, she was able to grow enough of the plant to begin producing indigo dye. Shortly thereafter, she began exporting the crop's yield to England and sharing her seeds with other planters. By 1775, South Carolina was exporting more than one million pounds of indigo, the majority of which was sent to England.
The conflict with the British during the American Revolution led to the demise of the indigo industry in South Carolina, but Pinckney's influence continued. Her sons, Charles Cotesworth Pinckney and Thomas Pinckney, served as American generals during the war, and Charles signed the U.S. Constitution in 1787.
Pinckney died in 1793, and George Washington served as a pallbearer at her funeral. Today, indigo is the official color of South Carolina and the only color on the state flag. A panel on Pinckney and indigo production in Georgetown County is on display in the Georgetown County Museum.
— By Rebecca Woltz for Our State Magazine and South Carolina's Hammock Coast