Hammock Coast's 10 most romantic restaurants for Valentine's Day
Cupid is poised to pull the arrow from his quiver and assuming his aim is true, you may be in search of a romantic dinner along South Carolina's Hammock Coast for Valentine's Day.
If that's the case, you are in luck because the area is home to more than a few restaurants that provide an unforgettable dining experience when love is in the air. For couples in search of a romantic meal, here are 10 Hammock Coast restaurants sure to whet the appetite for a romantic night out for you and yours.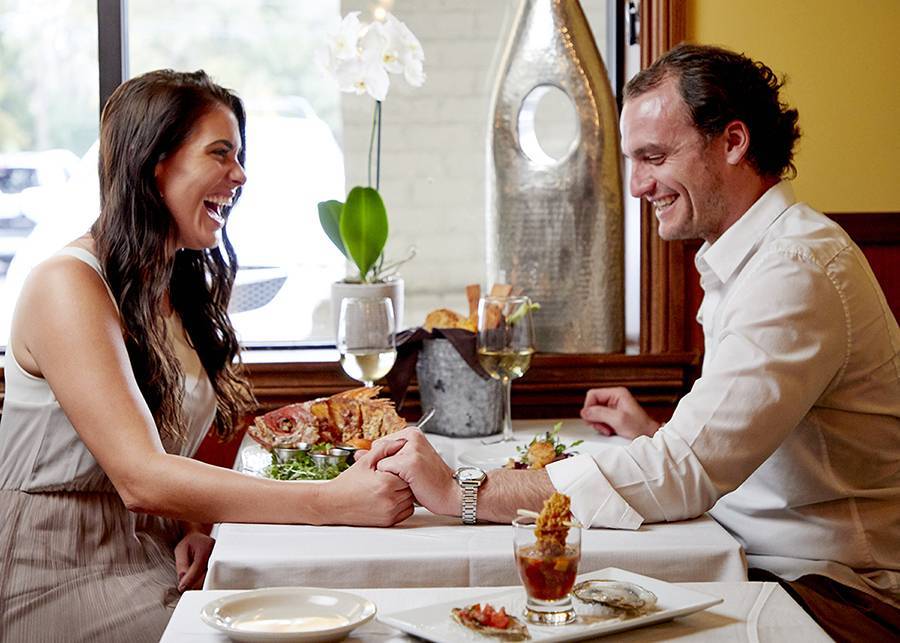 BISTRO 217
Executive chef Adam Kirby has made Bistro 217 in Pawleys Island a hotspot for lovers young and old. An eclectic menu, combined with indoor and outdoor seating, are at the heart of Bistro 217's appeal. Your significant other will want to try the whole-fried and scored snapper. It's delicious and you two will rush to share the picture.
PERRONE'S
With art lining the walls and one of the area's best wine lists, Perrone's, located in the Litchfield Beach community of Pawleys Island, is an ideal spot for a Valentine's date. The atmosphere is intimate and the menu, which touts its Mediterranean flair, makes settling on a single item difficult. For seafood lovers, the bistorfresh catch is always a winner.
FRANK'S
Frank's is a Hammock Coast institution. With two restaurants and four bars to choose from, this Pawleys Island mainstay has something for all occasions, but since we are focusing on romance and it's February, the main dining room is what you should plan for. Low light, white linen tablecloths and candlelight create an ambiance that is the equal of one of the region's best menus.
GULFSTREAM CAFE
If you want a stunning view to accompany dinner, Gulfstream Café in southern Garden City is THE choice. The second-story establishment overlooks Murrells Inlet and the beauty can't be overstated. Enjoying she crab soup and grouper francaise for dinner while the sun sets over the inlet is hard to beat.
GIO'S ITALIAN KITCHEN
If amore is in the air, Gio's Italian Kitchen, a family-owned and operated business in Pawleys Island, is the place to go. Homemade marinara sauce complements an authentic Italian menu, an outstanding wine list, and signature craft cocktails.
ROOT
Historic Front Street in Georgetown is by nature a cozy environment, and Root takes that inviting atmosphere to the next level. The aim at Root is to use "locally sourced, farm to table, and dock to dinner" ingredients, so the food is ultra-fresh. The pan-seared sea scallops over butternut squash risotto topped with an arugula salad, candied pancetta, fresh-shaved parmesan and cranberry chutney is even better than it sounds.
THE RIVER ROOM
The River Room is a Georgetown landmark, delighting couples in search of a romantic evening since 1984. Seafood is the specialty, and the water views of the Sampit River are delightful. The crab cakes, grouper, fresh tuna or almost anything in between at The River Room will deliver a memorable meal.
WAHOO'S FISH HOUSE
If you are looking to enjoy a date at Murrells Inlet's MarshWalk, Wahoo's Fish House is a destination of choice. Indoor and outdoor seating is available and live music is abundant, setting the stage for an outstanding evening. Anything from the fresh catch to sushi will satisfy the palate.
AUSTIN'S OCEAN ONE
The Hammock Coast's biggest attraction is the Atlantic, and Austin's Ocean One in the Litchfield Beach area allows diners to enjoy a floor-to-ceiling view of its crashing waves. Did we mention it also provides one of the area's premier fine-dining experiences, too? The pan-fried lobster Milanese, served over angel hair pasta with lemon butter and baby arugula greens, is a special treat for a special date.
COSTA COASTAL KITCHEN
The mantra at Costa Coastal Kitchen & Bar is "life is too short for average food," and Chef Jimmy Pronesti ensures there is nothing mediocre about what comes out of his Murrells Inlet kitchen. The seasonal menu is always evolving, but shrimp scampi is a dish that delights diners throughout the year.
About the Hammock Coast®
Georgetown County's casual charm and Southern hospitality earned it the nickname Hammock Coast. Adventure and relaxation blend together in perfect harmony, like the flowing and ebbing of waves on the county's famed beaches. With six communities – southern Garden City, Murrells Inlet, Litchfield Beach, Pawleys Island, Georgetown and Andrews – comprising the pristine coastal area between Myrtle Beach and Charleston, visitors can experience South Carolina's Hammock Coast like never before.
For a comprehensive look at the Georgetown County dining scene, click here.
Compiled by Chris King for the Georgetown County Chamber of Commerce and South Carolina's Hammock Coast®