Need travel assistance? Contact our team.
We are here to support you during this time and make your travel plans easier. Our teams at South Carolina's Tourism Marketing Commission and the Georgetown County Chamber of Commerce are available to answer questions regarding your destination, attractions and events. If you have any questions specifically about reservation details regarding your accommodation, we recommend that you reach out to the property directly.
Contact Us
On April 27, 2021, the Georgetown County government has rescinded its face mask requirement. Some businesses may still require the wearing of face masks to enter their location. Please be advised, however, that the City of Georgetown government voted, also on April 27, 2021, to keep its mask ordinance in place for another 90 days – or until the governor cancels the state emergency ordinance.
—–
The Centers for Disease Control recommends certain measures to prevent the spread of COVID-19.
Even on vacation, we ask you to follow these guidelines, and local law enforcement are able to make sure the public adheres to accepted guidelines.
• When wearing a mask, it should cover your mouth and nose. Wearing a mask protects everyone. A self-made mask is acceptable.
• Stay at least 6 feet about from other people.
• Cover your cough or sneeze with a tissue, then throw away the tissue in the trash and wash your hands. If you do not have the ability to wash your hands, please use hand sanitizer.
• Do not touch your eyes, nose and mouth.
• Clean and disinfect frequently touched objects and surfaces.
• Stay home when you are sick, except to get medical care.
• Wash your hands often with soap and water for at least 20 seconds.
• Following these steps help protect fellow visitors and full-time residents. We can all stay safe by following these few easy steps.
Travel Safety Awareness
We understand that many people still want to travel and escape to South Carolina's Hammock Coast during this time.
It's important that when doing so, you are safe and responsible, following the suggestions put forth from health experts.
Here is specific information from the CDC regarding travel. The best way to prevent illness is to avoid being exposed to this virus. As a reminder, the Department of Health always recommends everyday preventive actions to help impede the spread of respiratory diseases, including: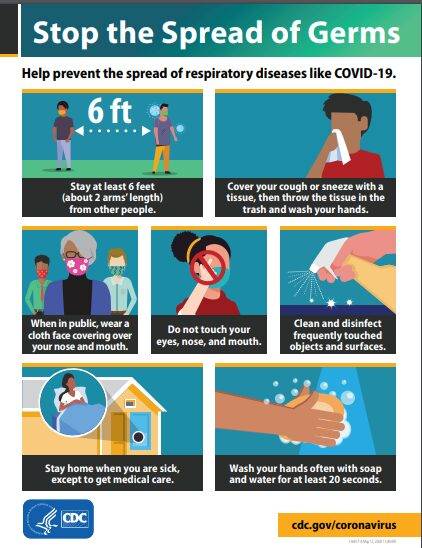 *Wearing a cloth face covering over your nose and mouth when in public, especially when you are indoors.
*Washing your hands often with soap and water for at least 20 seconds, especially after going to the bathroom, before eating, after blowing your nose, coughing or sneezing;
*If soap and water are not readily available, use an alcohol-based hand sanitizer with at least 60% alcohol. Always wash hands with soap and water if hands are visibly dirty, and;
*Cleaning and disinfecting frequently touched objects and surfaces using a regular household cleaning spray or wipe.
*Avoiding close contact with people who are sick;
*Staying home when you are sick;
*Avoiding touching your eyes, nose and mouth with unwashed hands;
*Covering your cough or sneeze with a tissue, then disposing of the tissue;
We encourage you to refer to the CDC for the most up-to-date travel information.